Who Created Therapy Blogging 101?
Hey! We're Chanda and Meredith, and we're PTs who began our blogs as hobbies and then found ourselves immersed in a whole new world of online entrepreneurship. We have learned a lot and made a lot of mistakes along the way, so we're here to help you build, grow, and monetize your own blog—without making the same mistakes we did!
---
Chanda Jothen, PT, DPT
Chanda Jothen, PT, DPT runs Pink Oatmeal, a website that caters to pediatric therapy providers and teachers. She grew the site from a hobby blog with recipes, baby information, and random lifestyle tips to a leading provider of movement resources—one that generates a healthy six-figure income.
About Chanda
Lives in Minneapolis, MN
Has 3 kids
Married to a Nick
Loves dogs
Loves summer, pool days, going out to eat, and shopping
Loves margaritas
Makes a full-time living on her blog
Works part-time hours
Has run Pink Oatmeal since 2014
Hates cooking (despite this hilarious recipe from the early days of her blog)
Has an irrational fear of mice
---
Meredith Castin, PT, DPT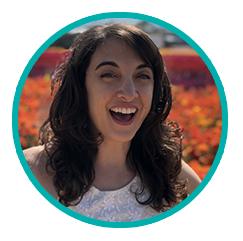 Meredith Castin, PT, DPT runs The Non-Clinical PT, a website that caters to PT, OT, and SLP professionals who want to use their skills and education in non-clinical careers. She grew the site from a simple contact form to the number one career platform in the rehab space! She also earns a healthy six-figure income from her site 🙂
About Meredith
Lives in Fayetteville, Arkansas
Has 3 cats
Married to a Nick
Loves cats
Loves hiking, horror movies, and making music (here's a rock opera about her cats)
Loves margaritas
Makes a full-time living on her blog
Works part-time hours
Has run The Non-Clinical PT since 2017
Hates onions and mayonnaise
Has an irrational fear of getting swept away in a tidal wave
---
---
Why learn from us?
Proven success.
We've both built highly profitable blogs with a strong focus on integrity. We both put principle over profit, and we still make a great living from our blogs. We both make healthy six-figure incomes from our blogs, and we don't even work close to full time.

Blogs that generate income.
We're not part of any multi-level-marketing (MLM) program where we get money from recruiting you. We can't stand when people act like they're successful but are really just in pyramid schemes, making all their money from convincing you to join.

Therapists who learned to sell.
We were both terrified of selling. We had to learn how to take our innate sales skills we learned in the clinic and transfer them to online sales. And that's why we both take an organic and consultative approach to sales. We're not about pushing things down anyone's throat, but we do know how to educate people into taking action.

Integrity.
We deliberately put out lots of free content and don't charge a lot for our course. We're not out to get rich from your dreams. We made this a low-cost course because we know that therapists aren't exactly living high on the hog, and on the of chance that you're not enjoying the whole blogging thing, you won't have invested a ton of money to find that out.

One-stop shop.
We're not going to bait you with an affordable course, then upsell you like crazy. Others are perfectly willing to charge you thousands, then continue to upsell you the entire time they "coach" you. We'll point you in the direction of recommended resources when you really need them, but our goal is to make this course as comprehensive as possible for you.

Work less and earn more.
TIME is our most valuable asset. We earn a lot on our blogs, but we are most proud of how flexible our lives are. We believe all roads lead to passive income. Many people promise passive income, but you'll really wind up being a slave to your blog. You're constantly chasing the next shiny object, and we're just not down with that. We know you're here because you want work-life balance, and we teach you how to create products and services people want, as well as strategies to deliver your offerings passively.
We're passionate about helping others take their rehab skills and knowledge and use them in an entirely new way. We're excited to help you on your journey!
Cheers!!
– Chanda and Meredith 🙂